Chiropractic Care
At Kline Chiropractic & Wellness, it's our goal to help you complete your chosen daily activities without pain. You may also find that you're more flexible and have a greater range of motion than you used to. Our patients have even reported that they feel like they can rest better thanks to chiropractic care!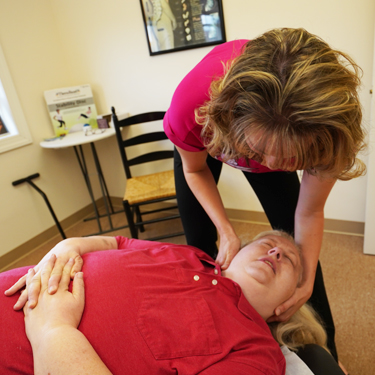 There is a broad range of common concerns that we often see, such as
Auto accident injury
Back pain
Disc bulge
Disc herniation
Headaches
Neck pain
Pain in the arm and leg
Sciatica
Sprains/strains
Whiplash
What to Expect During Your Adjustment
Dr. Kline will talk to you about your adjustment before getting started. You'll know exactly what she will do and why. We'll work with you to find the right technique for your goals. The methods that she may utilize include Gonstead, Diversified, Cox Flexion-Distraction, Thompson Drop and Activator®, which is a handheld instrument.
We usually see positive changes in your pain levels and health happen within just a few weeks. As you improve, we'll decrease the frequency of your visits with us. You are free to choose to stop your care at any time.
Start With Our Conservative Option
Too often, people seek out chiropractic care once they have tried everything else. We encourage individuals to start with chiropractic rather than considering other avenues that are more invasive. It's incredible what your body can do when it's given a chance to heal! If you have already had a type of surgery, we can still evaluate you and find a technique or therapy that can help you feel better and move better.
Book a Same-Day Visit
We're available to see you for a same-day appointment. Get the attention you need right away. Contact the friendly team at Kline Chiropractic & Wellness today! We also have convenient Saturday hours available. As an in-network provider for most insurances, you can use your coverage with us.
CONTACT US »

Chiropractic Care Woodbridge | (703) 680-4344