Nutrition in Woodbridge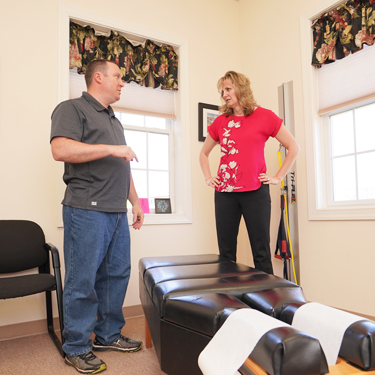 There are several aspects of your health that need attention. Chiropractic ensures that your pain is relieved, range of motion and flexibility restored and that you can complete your daily activities. Another vital element of your health is about what you're putting into your body. Dr. Kline is pleased to use her knowledge of nutrition to the benefits of her patients.
If you feed your body the right foods, it boosts your healing potential.
Dr. Kline
A Complement to Your Care
Nutrition guidance from Dr. Kline is free of charge as part of your care plan with us. She'll provide you with personalized advice that is designed to help you meet your goals. In today's world, it's all too common that fads come and go. When it comes to your nutrition, we want you to know what you need and why.
Depending on the time of year, Dr. Kline may give you advice that pertains to the season. For example, heading into the autumn, she may speak to you about the importance of Vitamin D, since the sun's rays aren't felt as often.
How to Better Maintain Your Health
Nutritional instruction doesn't have to be about losing weight. Though if you are seeking to shed unwanted pounds, Dr. Kline can give you individual advice about how to do so. It's more about helping you heal faster and getting through the phase of acute injury and into rehabilitation care. It can assist you in not needing to have your chiropractic visits as often, as we want you to not rely on chiropractic to stay well.
Our High-Quality Products
We sell a range of products in our office from Metagenics®. We've chosen to work with this brand because they are triple-certified. The quality is high, the labels tell you everything that's in it, and there are no unnecessary ingredients added. The prices are affordable because you shouldn't have to break the bank to have a good dietary supplement. We can place an order for any supplements that you need or you can order directly from them with our practitioner's code.
Walking the Walk
Dr. Kline practices the healthy habits she discusses with her patients. She works out nearly every day, lifting weights and doing cardio. Throughout the day, Dr. Kline eats small portions, concentrating on fruits, veggies and reducing her sugar intake. If she eats carbohydrates, she tries to do so in the morning, increasing her intake of protein and veggies as the day goes on. These general guidelines can be used by anyone and will help keep your blood sugar levels balanced.
Start on Improving Your Health
If you would like to learn more about how we can help you, contact Kline Chiropractic & Wellness today! We have convenient Saturday hours and welcome walk-ins to drop by.
CONTACT US »

Nutrition Woodbridge | (703) 680-4344