Meet Dr. Erin Kline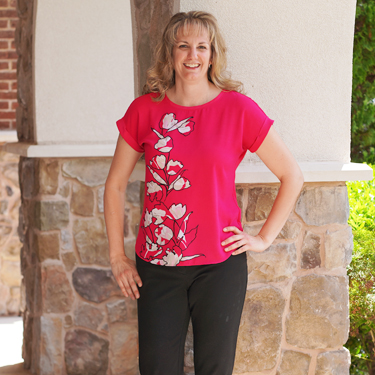 Discovering the Chiropractic Philosophy
Dr. Kline knew before she started at Virginia Tech that she was interested in the health field and working with people. She earned a Bachelor of Science with honors in Human Nutrition, Foods and Exercise there, graduating in 1999. Then, she took a year off while she considered her options.
While working at a chiropractic office, she fell in love with the philosophy of innate intelligence. "It made sense that health comes from the top down and inside out. I didn't like that the medical field was about taking a medication to get healthy. If you eat well, exercise and take care of your nervous system, you can stay well." Along with a desire to have her own business, it made chiropractic the perfect career choice.
Learning to Help You Get Out of Pain
Dr. Kline attended Palmer College of Chiropractic, earning a Doctor of Chiropractic and graduating magna cum laude. Her internship was completed at the same chiropractic office she had worked at previously, with Dr. Lincoln German in Manassas. Her practice is modeled on what she was taught there, relieving pain and helping people recover from injuries.
The further training Dr. Kline has taken on over the years include addressing disc herniation, disc bulges and radiating pain in the arms and legs. "I want to help people feel better without having to take medications. I also enjoy helping people who want to improve their wellness by looking at their nutrition." She is a member of the Virginia Chiropractic Association.
CHIROPRACTIC CARE »
Born and Raised in the County
Dr. Kline was born and raised in Prince William County. She attended C.D. Hylton High School, Parkside Middle School and Coles Elementary School. During her high school years, Dr. Kline was a four-year varsity starter in basketball. She also participated in AAU Prince William Virginians basketball.
She and her husband, Brian, have three sons: Joseph, Brady and Keegan. Brian is a firefighter in neighboring Stafford County. In her free time, you can find Dr. Kline hanging out with her family, cheering on the Redskins and Capitals, watching college basketball and football and shopping. She stays busy going to her kids' sports fields, band concerts and school events.
Your In-Network Provider
We are in-network with most insurance companies. Contact Kline Chiropractic & Wellness today to schedule your first appointment! Walk-ins are also welcome to drop by.

Chiropractor Woodbridge | (703) 680-4344