Meet the Team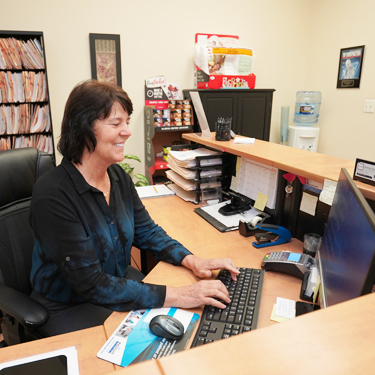 Pamela Montano – Office Receptionist
Pam is a graduate of a Culinary school in Washington DC and she worked as a Sous Chef with Marriott. Pam has also worked as a technical writer for Lockheed Martin Corporation. She is an avid reader and baseball fan. Her favorite team is the Detroit Tigers but she has adopted the Washington Nationals. She enjoys staying fit and listening to music – her favorite music is hard rock and heavy metal.
Megan Leone – Chiropractic Assistant
Megan lives in Manassas with her husband (who is a firefighter/EMS technician for Stafford County) and 3 kids: Donovan, Adam and Alyssa. She is currently attending American Public University working on a degree in Health Sciences. She spends her free time volunteering with Colgan HS Marching Band. She also enjoys photography, the Washington Nationals baseball and sells Thirty One Bags.
Megan Tracy – Chiropractic Assistant
Megan is our new afternoon chiropractic assistant. She is a recent graduate of Colgan HS and was involved in the National Honor Society, Key club and Leadership. She will be attending NVCC with plans to transfer to UVA or GMU after 2 years. She plans to double major in political science and criminology. She plays violin and enjoys running, scrapbooking, and playing video games. Megan lives in Nokesville with her parents and triplet brother and sister.
Massage Therapists
Belinda Mathis, NCMT
Belinda has worked at Kline Chiropractic & Wellness for over 9 years. She completed her massage training at Southeastern School of Neuromuscular and Massage Therapy of Charleston and has been practicing since 2007. She has been trained in Swedish and Neuromuscular Therapy massage. Belinda works on Tuesday afternoons and every other Saturday morning. Belinda currently lives in Haymarket with her daughter and two step sons.
Mahala Morefield, NCMT
Mahala has worked at Kline Chiropractic & Wellness over 7 years. She completed her massage training at the Atlanta School of Massage and become nationally certified in 2004. She has been trained in deep tissue massage, Swedish massage, Lymphatic Drainage, and Spinal Reflex Therapy. Mahala works on Mondays and every other Saturday morning. She also works full time at Massage Envy in Lake Ridge. She currently lives in Fredericksburg with her husband

Kline Chiropractic & Wellness Team | (703) 680-4344